The Ultimate Guide for Natural Hair
Welcome back to the blog!
Are you a new naturalista? Do you know what to do with your natural hair? It's okay if you don't; that's what I'm here for. I began my natural hair journey 9 years ago..randomly. I had no idea that I would big chop that day. I didn't even know I would uninstall my sew- in…but I did.
I woke up the next morning thinking, "Wow, I really did it." I don't think the students on my campus were very receptive to the rapid change but, that wasn't my problem honestly. I'm sure some of them thought I was crazy, but who cares?
In this post you will learn about:
Hair type
Hair porosity
Detangling your natural hair
The wash day process
Moisturizing your natural hair
Protective styling
Regimens
Protecting your hair while you sleep
Let's get started.
Hair Type
Do you know what a hair type is? Well, basically, a hair type is a category that describes the characteristics of your hair.
For example, I have type 4C air. My hair is thick and my strands are tightly coiled.
You can refer to the chart below to determine or confirm your hair type. By knowing your hair type, you can better manage your hair by using products that cater to your specific hair type.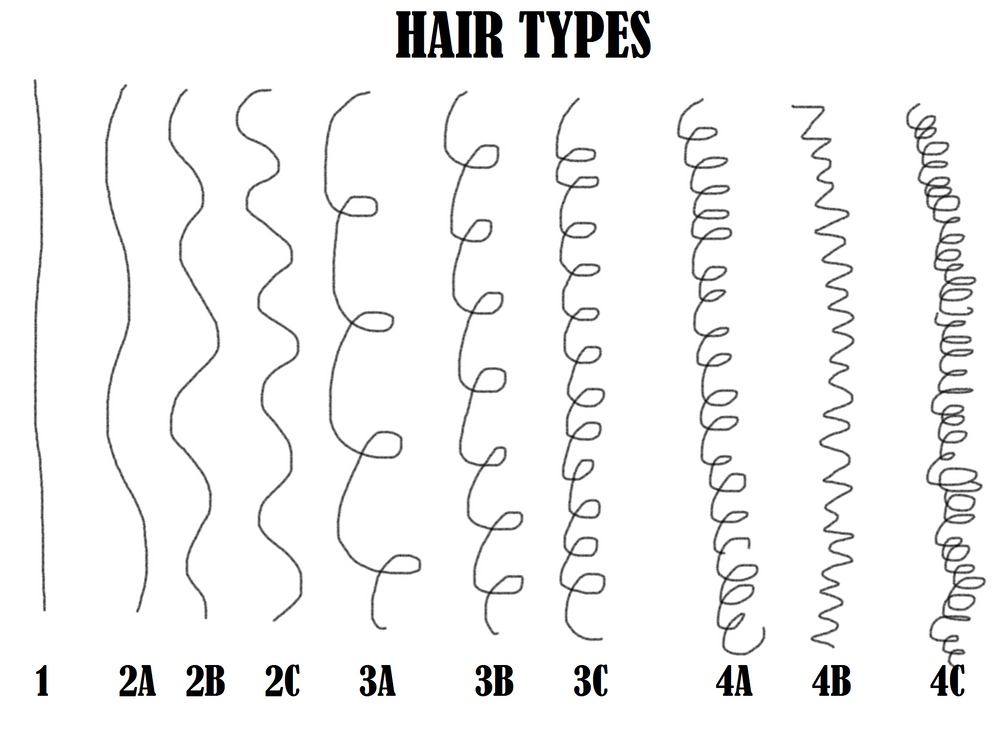 Hair Type Characteristics
As you can see above, the types of hair range from straight all the way to coily. Naturally straight hair may be the easiest to mange and tightly coiled hair may be the most difficult. You may have heard that people who have type 1 or naturally straight hair wash their hair often, sometimes everyday. This is due to the fact that it can get oily fast and their hair becomes weighed down. This is the opposite for type 4C hair or coily hair. The natural oils from our scalp has to travel down and around each bend and coil in order to get to the ends, causing your hair to be less lubricated by your scalp's natural sebum or oil.
Type 1
Type 2
Type 3
Type 4
Porosity
Porosity stems from the word "porous" which means "full of pores" (Merriam-Webster Dictionary). Porosity is your your hair's ability to absorb and retain moisture. Knowing your hair's porosity is important so that you can understand how to properly moisturize your strands. You definitely don't want to walk around with dry hair because 1) that's not cute sis, and 2) it can lead to breakage. (You will come to learn that the list of things that can cause breakage is rather long).
Porosity Test
One way to determine your hair porosity is to conduct a porosity test. For this particular test, all you need is a glass of water and a clean strand of hair.
Step one: Fill the glass with water
Step two: Drop your strand of hair into the water
Step three: Wait for a minute or two.
Step four: Determine where your strand of hair is in the water.
Did your hair float at the top of the glass, sink to the bottom, or hover in the middle?
Results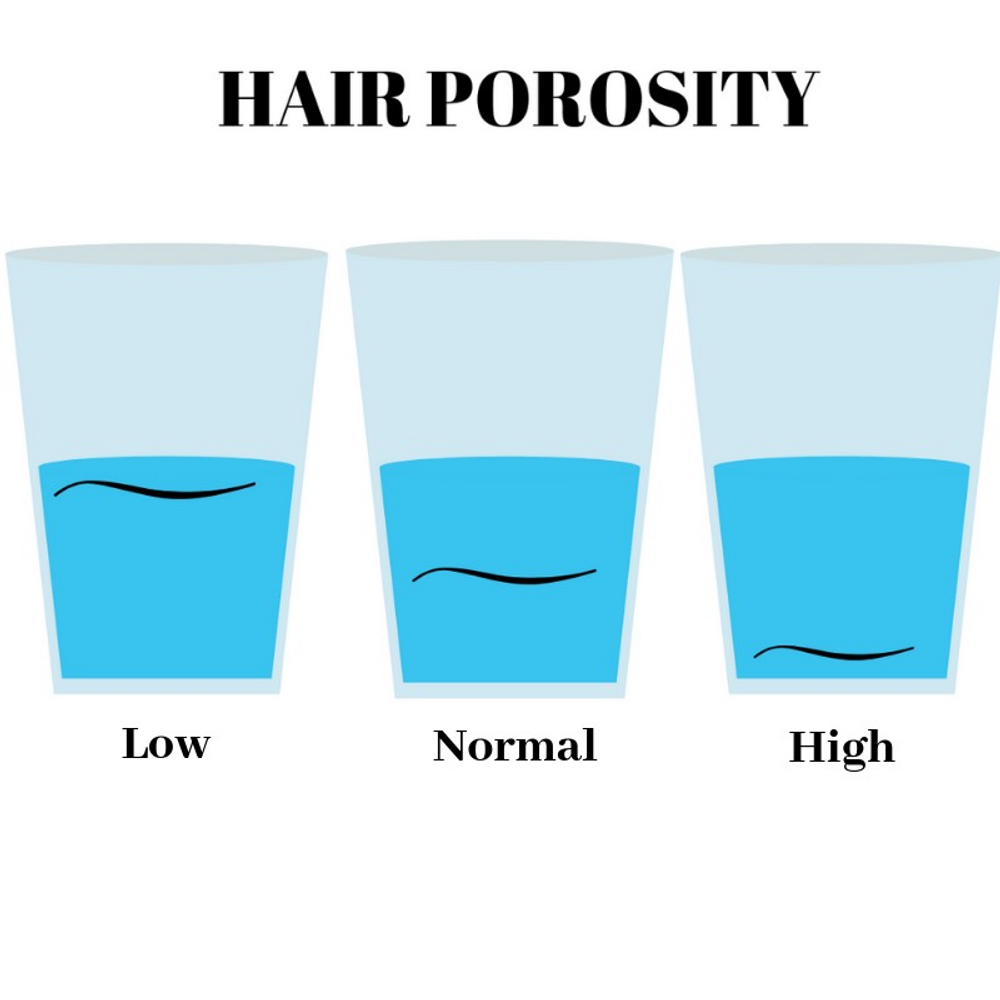 If your hair floated at the top then you have low porosity hair. If it sank to the bottom then you have high porosity hair. If it hovered towards the middle then you have normal porosity hair.
Low Porosity
If you have low porosity then your hair has difficulty retaining moisture. This occurs because the hair shaft is kind of closed, which makes it hard for moisture to enter the strand.
Normal Porosity
Hair that has normal porosity absorbs and retains moisture just fine. Your hair doesn't require any extra steps in order to maintain it's moisture levels.
High Porosity
If your hair has high porosity then it easily absorbs moisture but it also easily releases it. This is because your hair cuticle is raised allowing moisture to easily come in and leave. It is extremely important for you to moisturize your hair products likeheavy creams and then seal in the moisture with oils.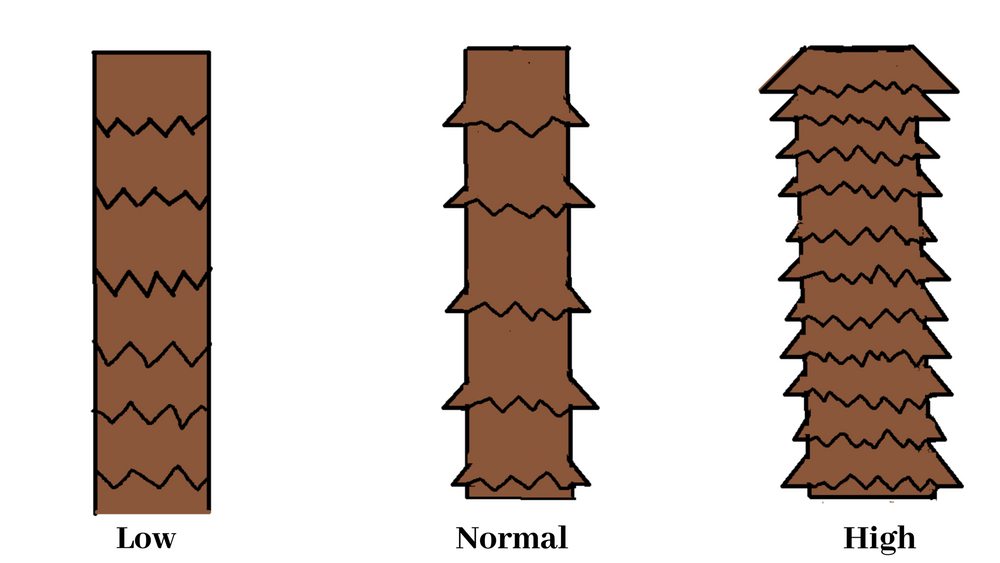 Detangling you natural hair
It is important to detangle your hair to ensure it doesn't get matted and that your strands don't intertwine with one another causing knots, or single strand knots. Single strand knots are exactly what they sounds like. It is when one strand of hair coils up against itself and creates a knot. They are almost impossible to get out without cutting and they are common especially on coily hair such as 4c.
Brushes and combs
I like use a brush to detangle my hair. I am currently using a brush similar to the Tangle Teezer. I start at the ends and work my way up to the roots on damp hair. I do not suggest you detangle your hair while it is dry since It is easy to break off in that state. I like to apply a little water and condition to my hair first.
Some people like to use wide tooth combs to detangle their hair, and I used to do the same. However, I stopped using wide tooth combs because the ones I used had seams in between the teeth that would snag on my hair. So look out for seams if you decide to use a use them to detangle.
Finger Detangling
Finger detangling is when you use your hands to detangle. It's convenient because you don't have to dig through a container full of natural hair products or tools to find a comb or brush. Using your fingers can be gentler on your hair too. When you take your time and go through your hair, make sure you take your time and stop when you come across a tangle. It take some patience and time to get used to it, but a lot of naturalistas swear by finger detangling.
Wash Day Process
We all love wash day right? We spend hours doing our hair only to wake up the next morning pissed because our twists didn't dry overnight. Now we have to show up at work or still with a undefined twist out, or a shrunken afro or puff (depending on how you decided to fix it).
My wash day routine no longer takes 8 hours. It's more like 3 hours since I sit we some products for about a hour each. Once you find the right products, and follow a regimen, your hair will cooperate.
Pre-poo
Has your hair ever felt squeaky clean? That's the result of your shampoo stripping your hair of its natural oils while cleansing it. To prevent that from happening, I suggest pre-shampooing or pre-pooing your hair. For this process I like to use oils like extra virgin coconut oil or extra virgin olive oil.
I begin by applying the oil directly to my hair and scalp; I don't add anything else. I saturate my entire head with the oil of my choice and let it sit for at least an hour. Sometimes I let it sit overnight. After that, I detangle my hair as usual, section it, and put it in at least 4 chunky twists. My hair isn't completely dry when detangling so it's easier for me to brush through. I also notice that my hair feels really soft after letting the oil sit.
Shampoo
After pre-pooing and sectioning my hair, I am ready to shampoo. I wet my scalp and hair under the water and apply the shampoo to my scalp. I massage my scalp with the pads on my fingertips and work it in to remove any build up. Then, I rinse and let the shampoo go down the length of m hair while it is still in the twists. Sometimes I go twist by twist and wash each section individually, it just depends on the day.
Conditioning
I rinse the shampoo out and apply a conditioner of my choice to add moisture back into the hair. I let it sit for however long the directions say, then rinse. I let my hair dry a little and move on to deep conditioning.
Deep Conditioning
I've been trying new deep conditioners lately but my process hasn't changed. I apply the deep conditioner while my hair is in sections and detangle again, especially if my twists have unraveled. Sometimes I add oils to my deep conditioners like Jamaican black castor oil. If I do, I'll apply it to my scalp and hair. Then I put on a plastic cap or plastic bag and let it work it's magic. I don't leave it in for more than one hour and then I rinse in cold water. You can let your hair air dry after this, blot with a towel or t-shirt, then move on to moisturizing and styling.
Maintaining moisturized hair is one of the most important things about being natural. It's like the number one rule that everyone learns. Your hair must be moisturized in order to avoid breakage Don't get me wrong, breakage can occur even when your hair is moisturized, but the chances it will break off go down.
Two common ways to maintain moisturized hair is the LCO or LOC method. You can use either one however, depending on your hair type, one may work better than the other. Feel free to play around and see what works best though.
Moisturizing
LCO
The LCO method is an acronym. You begin this process by applying a liquid first, followed by a cream, and then seal all of it in with an oil. For the liquid part I suggest you use water. Water is the best way to begin the process of adding moisture to your hair. You can also use leave-in conditioners. I personally use both, water then a leave-in. When finding a leave-in, look for products that have water listed as the first ingredient.
Cream is next product. In my opinion, this process is best for my hair type. It guarantees that my hair has double the amount of moisture (the leave-in and cream). Then I lock all of that moisture in by sealing it with an oil.
I love to use Jamaican black castor oil. It's thick and heavy and it ensures that my hair is properly sealed. I would recommend trying different oils to see what your hair likes. This can range from extra virgin olive oil, extra virgin cocunut oil, jojoba oil, almond oil, grapeseed oil, argon oil, etc.
LOC
The LOC process uses the same type of products, but in a different order. In this process you still use a leave-in first. However, you apply an oil next, then your cream. Again, you can try both processes and monitor how your hair responds.
You want to moisturize your hair any time it feels dry. This will vary based on your hair type, your geogrpahical location, the season, your diet, etc. You can use warm water to open up the hair shaft which allows moisture to enter. Then you can apply products as you wish or use the LCO or LOC method. These are not the only methods out there so be sure to do your research.
Regimens
Regimens are important so that you and your hair have a routine. This is helpful to you because you become less overwhelmed when caring for your hair. Your hair should also become easier to manage as you realize what your hair likes and doesn't like.
One way to begin your hair care regimen is to pick a day for you to do your hair. I chose Sundays. Then you can begin doing everything you need to do and repeat until you've gotten the hang of it.
I believe it is wise to use the following order for your hair care regimen pre- shampoos (pre-poos), shampoo, conditioner, deep conditioner, moisturize and seal, style. This is the order I currently use. This works for my hair, but find out what works best for yours.
Protective Styling
I absolutely love, love, love protective styles. I have been wearing them since I was a child. Protective styles are styles that protect your hair, especially your ends, from the elements and constant manipulation that can cause damage. For example, constant manipulation would be styling your natural hair everyday or playing in your hair -twirling around your fingers.
Before you or anyone else installs a protective style in your hair, it is essential that your hair is clean and moisturized. Ideally, your ends should be sealed and tucked, and the style shouldn't be too tight where it could be pulling your hair.
My go-to style is the two stand halo twists. Anytime I don't feel like doing my hair I rock this style. It's super low maintenance. I simply make sure my hair is moisturized and add oil to the tips of my hair and tuck them.
Crochet braids, box braids, Havana twists wigs, etc. are also great protective styles. However, these styles require a little more work because you don't have direct access to your strands. I like to use the LOC or LCO method to moisturize my hair. I use a spray bottle filled with warm water and add one of my favorite leave-in conditioners and spray my hair. Then I follow up by applying an oil to my scalp by using a bottle with an applicator tip.
Check out my post:  5 Ways to Protect Your Natural Hair in 2019   and My Favorite Spring Protective Style- Marley Twists
Sleeping with natural hair
I suggest everyone with natural hair protect their strands by covering it with a silk or satin bonnet when sleeping. You may also want to cover your hair anytime your hair may rub against certain things, like the couch when sitting down, or even your clothing. It's up to you.
You are not confined to using only a silk scarf or bonnet. You can also use a silk pillowcase. My current style dictates whether I wear a scarf or bonnet. The one that is more likely to stay on wins! You can easily use a satin pillow case to aid in protecting your hair if your bonnet or scarf accidentally slides off.
 Conclusion
Maintaining my natural hair has gotten easier over the years due to trial and error, and now there are various resources and people in the natural hair community that you can go to for tips. I remember when blogs were the main resource available for advice on natural hair lol.
I hope that this post was extremely helpful and that your hair flourishes! For more tips check out this article on natural hair 8 truths about natural hair no one understands
Did you like this post? Join the Royal Family!
–